Adriana Korn Tennis

About Us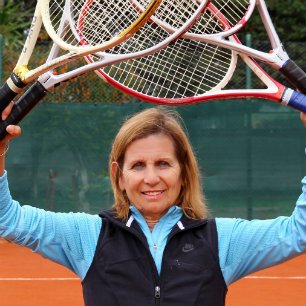 Adriana Korn, long career as a professional tennis player, teacher, coach and director of the tennis academy that bears her name, has been a licensee of the British Association of Tennis, tennis offering short courses throughout the country. She has been Fed Cup captain representing Argentina between 1984-1987. She has also organized numerous coaching courses and tennis events for companies.
Tennis Academy
Private and team tennis lessons and training with extensive experience in adults and children. From Monday to Friday at Club Centro Asturiano of Vicente López, Buenos Aires.

Our Mission: Getting people to improve their quality of life, increase their possibilities of action and welfare.
Foreign tennis players
Practice and training for foreign tennis players traveling for tourism, business or academic exchange to Argentina. Classes in English and French native language is also provided. Shuttle services to and from your hotel.

Here's what others have had to say about Adriana Korn Tennis Academy:

"I took private lessons with Adriana on a weekly basis. She is a skilled instructor and recognized the areas of my game that needed improvement. She offered to drive me to the courts in her car and took the time to show me around on our way to tennis practice. She also invited me to join tennis lessons with one of her students. Hopefully, I will come ba. Thank you for everything!" Francoise (Canada), November 2016

"Thank you for being so sweet and making time to pick me up, arrange a court and invite me to play with the other practice session. I had a very good time and could have a very good memory of my brief time in Buenos Aries. My thanks also to Patricio and Fausto, too.", David (China), September 2016

"En este grupo encontré lo que estaba buscando en mi estadía en Buenos Aires. Quería encontrar un grupo en el cual existan buenas relaciones de amistad pero también al mismo tiempo se tomen el entrenamiento seriamente. Me divertí mucho y extraño a Adriana y los demás", Caroline (US), July 2016

"I had the great fortune of meeting Adriana just a couple short days after my arrival in Buenos Aires. From then on, I played in almost every Friday night clinic during my three month stay. As a coach, Adriana brings unique attributes to the court - for one, her accomplished experience as a Fed Cup captain and tennis professional, but also, perhaps less known, an understanding of the importance of mental strength and control in the game.She is constantly introducing new concepts into the clinics, and she recruits the help of other professionals, such as physical trainers, kinesiologists, and psychologists to enhance the learning experience. Her coaching philosophy is based on understanding the game through the individual student's perspective and then working from there to make adept changes to one's game. If you have the opportunity to take a lesson with Adriana or to play in one of her clinics, take it! Whether you are a traveler looking to hit for an hour or a local hoping to develop a steady training regimen, she will improve your game and become a great friend in the process." - Shannon (USA), July 2016

"Thanks for the great lessons. See you in August!" Matthew, Sarah and Ali (US and Canada), from American International Lincoln School of Buenos Aires, May 2016

"Hi Adriana, It was very nice to train with you, thank you and hopefully see you next time! Greetings" Heidi and Eide (Netherlands), April 2016

"On a short notice we decided to get some tennis lessons in BA. We contacted Adriana and she helped us organize everything: Getting to the courts, change location and reservation because of bad weather, recommendations about the city and much more... The Tennis lessons with adriana were great. We got a lot of great technical inputs and it was always great fun. Adriana brought us even rackets, because we did not have our equipment with us! Thanks for the great time. We (hopefully) will be back sometime..." - Mirjam and Hannes (Switzerland), April 2016

"Hi Adriana, Thanks again for all the thoughtful coaching and hospitality. I had a great time and learned a lot. Love the pictures. I have played already and play again today. I actually won some points with my backhand - there is a God!! Hope to see you again. All the best." - Clive (London, UK), January 2016
Where
The activities take place at the Club Centro Asturiano, located in Av del Libertador 981, Vicente Lopez, Buenos Aires. Facilities include clay and hard courts, which allow the most complete preparation of the players. See it on Google Maps
How to get to the club
Using train: from Retiro station, take the train Mitre, Tigre branch, to Vicente López station.
Using subway and bus: From Plaza de Mayo, Obelisco, Plaza Italia or Alto Palermo Shopping, take the "D" subway line to Congreso de Tucumán station. Then, take the 161 bus ("Florida y Avenida Dorrego" sign) which goes to the club.
Remis or Taxi
Recent news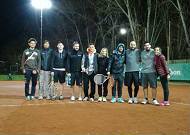 Team training: Traning with foreign players in Club Centro Asturiano.
Kinesic support: Adriana Korn incorporates the collaboration of Moodment to provide different kinesic analysis and advice for the players. Watch it on Youtube.
Tennis for kids: Playing tennis on a cold and rainy afternoon! We took the class to two squash courts, using specialized equipment for kids.
Foreign players: Team tennis training with Caroline (USA), Carlos (Brazil) and Micaela (Argentina).
Coaching: Players and coaches from Citac participated in a Ontological Coaching workshop dictated by Adriana Korn and Adriana Hercovich.
Foreign Players: Congratulations Ben Wilson! He trained in Argentina with Adriana Korn and was Bronze medal representing the United States during the XX World Transplant Games in Mar del Plata! Results