Adriana Korn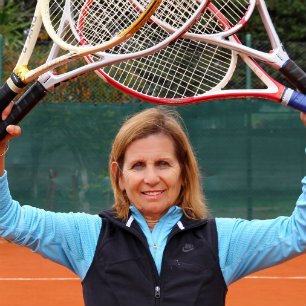 Adriana Korn, long career as a player, teacher, coach and director of the tennis academy that bears her name, has been a licensee of the British Association of Tennis, tennis offering short courses throughout the country. She has been Fed Cup captain representing Argentina between 1984-1987. She has also organized numerous coaching courses and tennis events for companies.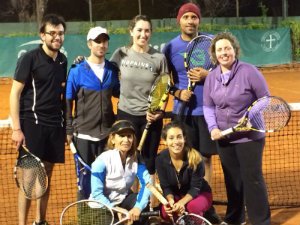 Tennis Academy
Private and team tennis lessons and training with extensive experience in adults and children at the Adriana Korn Tennis Academy. From Monday to Friday at Club Centro Asturiano of Vicente López, Buenos Aires.
Location
All the activities take place in the Club Círculo Trovador, located on Av del Libertador 1031, and Club Centro Asturiano, located at Av del Libertador 981, both in Vicente Lopez, Buenos Aires. Facilities include clay and hard courts.
How to get to the clubs
Using train: from Retiro station, take the train Mitre, Tigre branch, to Vicente López station.
Using subway and bus: From Plaza de Mayo, Obelisco, Plaza Italia or Alto Palermo Shopping, take the subway line D to Congreso de Tucumán station. Then take the bus 161 ("Florida y Avenida Dorrego" sign) which goes to the clubs.
Remis or Taxi
Foreign tennis players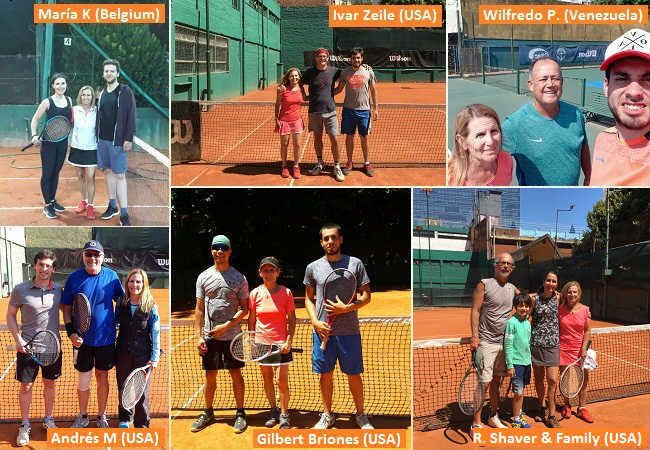 Practice and training for foreign tennis players traveling for tourism, business or academic exchange to Argentina. Classes in English and French native language is also provided. Shuttle services to and from your hotel.

Here's what others have had to say about Adriana Korn Tennis Academy:
"Adriana gave our family lessons every day for two weeks while we were on vacation visiting family and friends in Buenos Aires. It was wonderful to spend a couple of hours with Adriana everyday. Our 10 year old son has been playing for 3 years, but working with Adriana took his game to a whole new level, both physically and mentally. Along with great instruction, she took the time to understand him as a person and explore with him ways to deal with the frustration of not hitting every shot perfectly - and brought a great mix mix of kindness, patience, firmness and clarity to all her interactions with him. For my wife & I, who are both pretty new to tennis, she gave us great instruction, new activities every day, and a great workout - and left us wanting to play much more going forward. Gracias Adriana - and see you again next year!" Robby Shaver (USA), February 2020

"Thank you so much for the tennis sessions this past week Adriana, it was the perfect fix I needed for my habit and to stay in shape on my trip. I appreciate you bringing young Luciano out, he strikes a big ball! Between the two of you I felt perfectly challenged and left with lots to think about and work on. I also appreciate your generosity and flexibility, its obvious that your depth in the field is ideal for both new and seasoned hitters to enjoy their time on court in Buenos Aires." Ivar Zeile, November 2019

"Adriana es una excelente persona, agradable, profesional y dedicada en las clases de tenis y en el trato personal. Aprendí detalles del golpe de derecha, el servicio, la volea y el revés muy importantes para mejorar mi tenis! Sin duda alguna, la recomiendo! Un abrazo!" Wilfredo Puertas (Venezuela), November 2019

"I played tennis with Adriana for two months during the summer and I couldn't have been happier with the lessons. Adriana is a great professional with a quick eye to identify what the player needs to work on and a good approach to explain it. She is very patient and generous with her time. Communication with her was always very easy and fast. She introduced me to many of her other students so we can play and practise together, which was a great experience. If you are looking for a great tennis player and coach, and somebody who is kind and a pleasure to be around, Adriana is the best choice!" Maria Kirilova, March 2019

"Adri was an extraordinary woman! I trained with her for a total of 8 days for at least 2 hours/day, while on holiday in Buenos Aires. I had been playing tennis for over 20 years (4.0 player based on USTA NTRP rating) and seem to have experienced a road block in the advancement of my game and little did I know that Adri has the key to unlock my potential! The moment we met she asked me what I want to improve on and she dedicated drills and hitting sessions to focus on that. I had done camps and clinics in the past and none was ever satisfying, but with Adri you really feel the improvement right away and its so inspiring. She told me never to worry about mishits or bad shots,just execute what I learned with confidence and results will come, just believe in myself. I loved my training with her so much that I plan to return next year and do the same. Seriously if you want to take your game another notch and wants a different perspective you definitely should try Adri when in Buenos Aires, its even worth going down to Argentina just to train with her! Absolutely recommended." Gilbert Briones (USA), January 2019

"If you are visiting Buenos Aires and want to play tennis make sure to contact Adriana Korn, former professional tennis player and Argentina's former Federation Cup Capitan. Nowadays Adriana manages her tennis academy in Vicente Lopez, a suburb just north of BA's city limit. I mentioned to Adriana that I have been playing tennis since childhood and I wanted to hit with an upper level pro. Adriana arranged two/one hour sessions to hit with Patricio. It was the perfect match, as we hit Patricio gave me some pointers that we (60 +) players forget over the years. It was a great workout with great company. I am looking forward to my next visit to Buenos Aires and its traditional red clay." Andres Mamontoff (USA), September 2018

"I had a very nice tennis lesson with Adriana, her English is perfect and she gave me some great tips." Matthijs Hornby (The Netherlands), July 2018

"Adriana Korn Tennis is definitely one of the best places for foreign travelers who wish to enjoy tennis in Buenos Aires. I joined her lesson several times during a business trip, and would like to share my amazing experience there. Needless to say Adriana is an excellent tennis coach by herself, and moreover, she can offer wide range of levels and time flexibility in collaboration with local coaches network. You'll be able to find the class which best suits your maturity and schedule, and to socialize with local players!. Again, I recommend Adriana Korn Tennis with my 100% confidence." Yuji Makimoto (Japan), April 2018

"Dear Adriana, I come from Shenzhen, a giant neighbor city of Hongkong. Thanks so much for your kind and patient coaching to me. I had worry about that maybe play tennis is too late for me and would be too difficult. bit your class make me quite down and enjoy it. Also i should thanks for the kind of pick up after the couses. Have a nice weekened and happy everyday." Antonio Li (Hongkong), January 2018

"Professora Adriana, mi Amiga! Gostaria de agradecer todos conhecimentos adquiridos nas aulas que realizamos nos dias 02, 03 e 04 de Janeiro. Foi uma experiencia muito especial na minha busca por evolução na prática do esporte. As instruções no apredinzado de movimentos como backhand, forehand, saque e voleio, serão fundamentais para minha evolução em momento de jogo. Muchas gracias!" Rodrigo Fraga (Brasil), January 2018

"I took private lessons with Adriana on a weekly basis. She is a skilled instructor and recognized the areas of my game that needed improvement. She offered to drive me to the courts in her car and took the time to show me around on our way to tennis practice. She also invited me to join tennis lessons with one of her students. Hopefully, I will come ba. Thank you for everything!" Francoise (Canada), November 2016

"Thank you for being so sweet and making time to pick me up, arrange a court and invite me to play with the other practice session. I had a very good time and could have a very good memory of my brief time in Buenos Aries. My thanks also to Patricio and Fausto, too.", David (China), September 2016

"En este grupo encontré lo que estaba buscando en mi estadía en Buenos Aires. Quería encontrar un grupo en el cual existan buenas relaciones de amistad pero también al mismo tiempo se tomen el entrenamiento seriamente. Me divertí mucho y extraño a Adriana y los demás", Caroline (US), July 2016

"I had the great fortune of meeting Adriana just a couple short days after my arrival in Buenos Aires. From then on, I played in almost every Friday night clinic during my three month stay. As a coach, Adriana brings unique attributes to the court - for one, her accomplished experience as a Fed Cup captain and tennis professional, but also, perhaps less known, an understanding of the importance of mental strength and control in the game. She is constantly introducing new concepts into the clinics, and she recruits the help of other professionals, such as physical trainers, kinesiologists, and psychologists to enhance the learning experience. Her coaching philosophy is based on understanding the game through the individual student's perspective and then working from there to make adept changes to one's game. If you have the opportunity to take a lesson with Adriana or to play in one of her clinics, take it! Whether you are a traveler looking to hit for an hour or a local hoping to develop a steady training regimen, she will improve your game and become a great friend in the process." - Shannon (USA), July 2016

"Thanks for the great lessons. See you in August!" Matthew, Sarah and Ali (US and Canada), from American International Lincoln School of Buenos Aires, May 2016

"Hi Adriana, It was very nice to train with you, thank you and hopefully see you next time! Greetings" Heidi and Eide (Netherlands), April 2016

"On a short notice we decided to get some tennis lessons in BA. We contacted Adriana and she helped us organize everything: Getting to the courts, change location and reservation because of bad weather, recommendations about the city and much more... The Tennis lessons with adriana were great. We got a lot of great technical inputs and it was always great fun. Adriana brought us even rackets, because we did not have our equipment with us! Thanks for the great time. We (hopefully) will be back sometime..." - Mirjam and Hannes (Switzerland), April 2016

"Hi Adriana, Thanks again for all the thoughtful coaching and hospitality. I had a great time and learned a lot. Love the pictures. I have played already and play again today. I actually won some points with my backhand - there is a God!! Hope to see you again. All the best." - Clive (London, UK), January 2016

"Hello Adriana, Thank you again so much for teaching us last week. We had a great time playing and it was so nice to be able to play while on vacation. It was a great experience to learn from you and appreciate all your extra help with showing us the city and taking us to and from practice. Hopefully we can meet again in the future. Thank you!" - Jason (Seattle, USA), January 2016

"Hola Adriana! I want to thank you for the opportunity you gave me. I enjoyed it a lot. And thanks for bringing me home every time. I really enjoyed the practise, everyone was so nice to me. And if I know someone who comes to Argentina and wants to play tennis, I will certainly recommend you. Thanks for everything!" - Natasja (Amsterdam, Netherlands), December 2015
Wednesday team training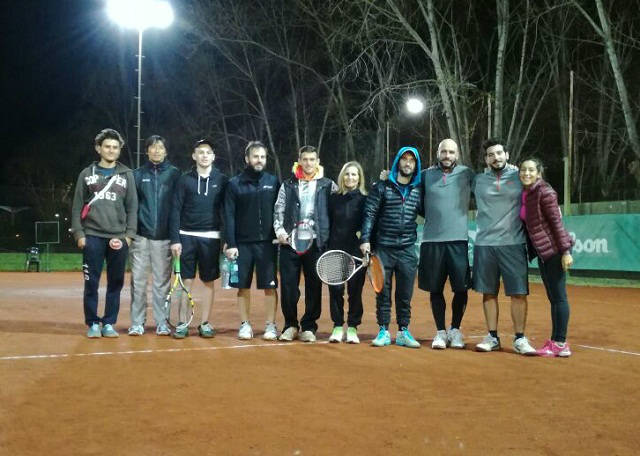 During a Wednesday night tennis traning! The participants were: Emmanuel (France), David (China), Tomás, Ariel, Rodolfo (Uruguay), Guido, Micaela, Patricio, Fausto and Adriana.
Foreign players training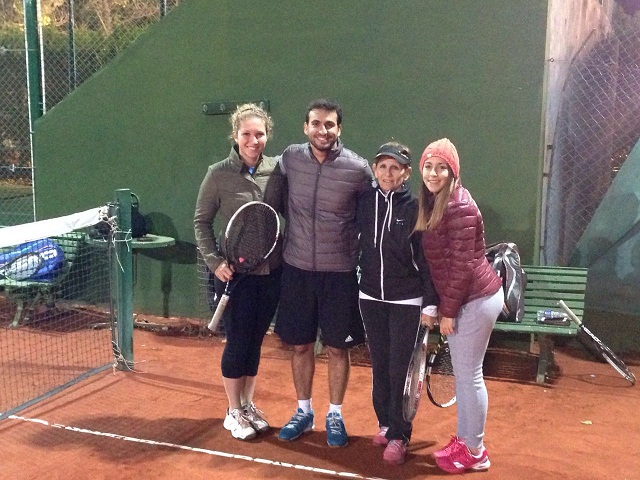 Health benefits of tennis: 10 reasons
Prof. (em.) Karl Weber MD, PhD, German Sports University, Cologne
1. Protection against inactivity and reduction of heart attack risk
2. Increase of fitness and relative protection for degenerative cardiovascular diseases
3. Management of body weight
4. Activation of fat metabolism and minimisation of dyslipidemia
5. Decrease of blood insulin level
6. Manifold positive effects on the skeletal muscle tissue (muscles, tendons, ligaments, cartilage and bone)
7. Reduction the risk of osteoporosis
8. Low risk of injury
9. Stimulation of cognitive brain functions and delay of age-related degenerations
10. Higher quality of life
Our mission: Getting people to improve their quality of life, increase their possibilities of action and welfare.